Fishing in Fort Lauderdale
Fort Lauderdale coastline offers a wide array of game fish. One of the best parts of fishing here is that you don't have to go far out to get to the deep water fishing grounds. We have an abundant coral reef system and thirty feet to 100 feet and consistently gets deeper from there on.

Crystal blue waters offer reef fishing, shipwreck fishing and we are not far from the gulf-stream.

Fort Lauderdale fishing attracts all types of anglers, from passionate salt water anglers or total newcomers looking to experience the sport of deep sea fishing.

Children and family groups are always welcome at Lauderdale Sport Fishing and it doesn't matter if you are a seasoned angler or have never been fishing before. Captain Mike will help you catch that fish of your life with his extremely customer friendly attitude so you ca enjoy your trip to the fullest!

Captain Mike at Lauderdale Sport Fishing has many years of experience fishing at the Fort Lauderdale waters so whether it's a corporate group or you are bringing the family and kids, let Lauderdale Sport Fishing be your choice for sportfishing in South Florida.


Fort Lauderdale Fishing Guide
Fort Lauderdale Fishing Spots
The shallow reefs of South Florida support diverse communities of marine organisms, so it is not unusual for anglers to land "game" fish such as tarpon, cobia and king mackerel. From time to time, it's even possible to hook sharks and even the stray sailfish. The good thing about fishing in South Florida is that if leaving in the morning, by noon we are back to the dock and your catch is on ice and filet.
Most common kinds of sportfish in Fort Lauderdale
Sailfish:
Florida's official state saltwater fish, this tackle buster inhabits tropical and subtropical waters. Sailfish usually travel alone or in small groups. The outstanding feature is the long, high first dorsal fin. Known for its high, acrobatic jumps, the sailfish is a favorite of blue-water anglers.
Grouper:
A generic name for several deepwater species, these bottom dwellers are important to both recreational and commercial fishermen. Red grouper and gag grouper (sometimes called black grouper) are most popular with anglers. Anglers typically "bottom fish" for these species, but during the cooler months, they can be caught in shallow water by trolling artificial lures.
Snappers:
An offshore species usually found in 60 to 440 feet. Red snapper is pinkish to red in color, and its pointed anal fin distinguishes it from other members of the snapper family. Juvenile red snapper once died by the millions in shrimp trawls, but new regulations have helped this species bounce back. Red snapper are considered one of the finest food fish found in Florida waters.
Mackerels:
This family includes both king mackerel and its smaller cousin, Spanish mackerel. These fish can be found in the western Atlantic Ocean from Maine to Rio de Janeiro, Brazil and into the Gulf of Mexico. One of the state's top ocean predators, kingfish are the favorite target of tournament fishermen.&nbsp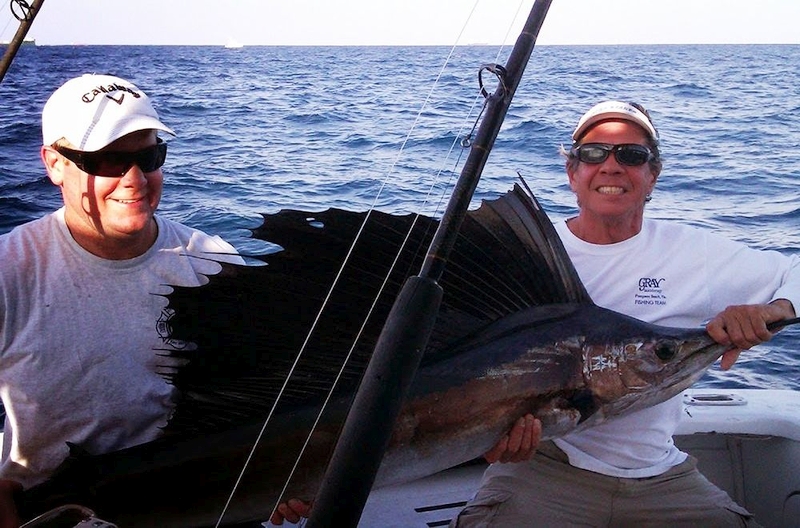 Call 954 257 2959 for a quote on fishing in Fort Lauderdale for Deep Sea Fishing, Sailfish, Sharks, Swordfish and Much More...